Bitcoin price struggled to continue higher above USD 39,200 and it started a downside correction. BTC broke the USD 38,500 support level and it is currently (13:00 UTC) trading below USD 38,000. It seems like the bears are aiming a test of the USD 36,500 support zone.
Similarly, most major altcoins are correcting lower. ETH/USD is trading below USD 1,220 and it could continue to move down towards USD 1,165 or USD 1,150. XRP/USD is slowly moving lower and it could even revisit the USD 0.265 support.
Total market capitalization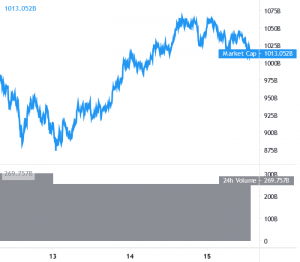 Bitcoin price
After a spike above USD 40,000, bitcoin price started consolidating gains. BTC failed to stay above the USD 38,500 support level and it is now correcting gains. The next major support is near the USD 36,500 and USD 36,400 levels. Any more losses could lead the price towards the USD 35,500 support.
On the upside, the USD 38,000 level is a short-term resistance. The key resistance is at USD 38,500, above which the price might rise towards the USD 39,200 level.
Ethereum price
Ethereum price is also correcting lower and trading below the USD 1,220 support. ETH is also struggling to stay above USD 1,200. A close below the USD 1,200 level may possibly push the price further lower towards the USD 1,165 and USD 1,150 support levels (the recent breakout zone).
On the upside, the USD 1,220 level is a minor hurdle. The main breakout zone is forming near the USD 1,250 level, above which the price might rise towards the USD 1,320 level in the near term.
Bitcoin cash, litecoin and XRP price
Bitcoin cash price failed to stay above the USD 505 and USD 500 support levels. BCH might drop lower towards the USD 485 support. Any more losses might encourage the bears for a test of the USD 450 support level. On the upside, the price might struggle to climb back above USD 510 in the short-term.
Litecoin (LTC) is now trading below the USD 150 pivot level. An immediate support is at USD 145. The main support is at USD 142, below which the price might start a fresh decline towards the USD 132 support zone. Conversely, a close above USD 150 could start a decent upward move towards the USD 158 and USD 165 levels.
XRP price is slowly gaining bearish momentum and it is now trading well below the USD 0.300 level. An initial support is at USD 0.280, below which it could drift towards the USD 0.265 support. The key breakdown support is still near the USD 0.255 level.
Other altcoins market today
Many altcoins climbed over 10%, including HEDG, VGX, IOST, CRV, BTCB, ATOM, DOT, NEXO, LINK, and ABBC. Out of these, IOST started a strong increase after it broke the USD 0.020 resistance.
To sum up, bitcoin price is correcting gains from USD 40,000. The previous breakout zone near USD 36,500 could act as a strong support. As long as BTC is above USD 36,500, it might start a fresh increase towards the USD 40,000 level.
_____
Find the best price to buy/sell cryptocurrency: