Bitcoin price formed a support base above USD 30,000 and started recovering. BTC broke the USD 30,500 and USD 31,200 resistance levels. It is currently (13:00 UTC) approaching the USD 32,500 resistance, where the bulls might face hurdles.
Similarly, most major altcoins are recovering higher. ETH/USD is gaining pace above USD 1,150, but it could struggle near USD 1,250. XRP/USD is trading well above USD 0.265 and it may possibly attempt a clear break above USD 0.285.
Total market capitalization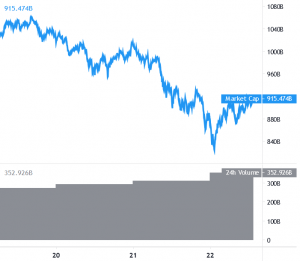 Bitcoin price
After a sharp decline, bitcoin price started a decent recovery wave above USD 30,500. BTC is gaining momentum above USD 31,200, but it might face resistance near USD 32,200 and USD 32,500. If there is a clear break above USD 32,500, there could be a test of the USD 33,000 resistance level.
If there is a fresh decline, the USD 31,200 support could provide support. The next major support is near the USD 30,500, where the bulls might take a stand.
"Tensions around an alleged Bitcoin double-spend combined with a generally insecure stance between BTC's bears and bulls sent the currency teetering all the way down to USD 30,000. But what was perceived as an ill-natured manipulation was in fact a perfectly normative blockchain event, wherein the network functioned in accordance with its protocol – a clear as day sign that Bitcoin is, simply put, "doing just fine," Antoni Trenchev, Co-founder and Managing Partner of major crypto lender Nexo, said in an emailed comment.
According to him, the broader outlook is promising for a shorter dip in prices and a BTC recovery.
"The new Biden administration has frozen all agency rulemaking, including a controversial proposal on "unhosted wallets." Hand in hand with this comes BlackRock's toe-dipping into crypto – another signal of the positive institutional interest dominating the "Bitcoin big picture," he said, adding that "news like this is what we should be focusing on in our industry vs. bickering over false claims of double-spent BTC."
Ethereum price
Ethereum price is recovering above USD 1,150 and USD 1,180. ETH is showing positive signs above USD 1,200 and it could continue to rise towards the USD 1,250 resistance zone. The next major resistance and a breakout zone could be near the USD 1,280 level.
If there is a fresh decline, the USD 1,180 level might provide support. The main support is now forming near USD 1,120, below which the price might resume its decline.
Bitcoin cash, litecoin and XRP price
Bitcoin cash price is trading well above the USD 400 support level. BCH is gaining pace above USD 425 and it is approaching the USD 440 level. The first major resistance is near USD 450, above which the price might rise towards the USD 485 resistance. Conversely, the price could remain well bid above USD 415.
Litecoin (LTC) is up over 5% and it broke the USD 140 resistance. LTC is showing positive signs and it seems like there could be more upsides towards the USD 148 and USD 150 levels. If there is no upside break towards USD 150, the price might decline back towards the USD 132 support level. The next key support is near the USD 130.
XRP price is correcting higher and it is now trading well above USD 0.265. The price is showing positive signs and it could rise towards the USD 0.285 and USD 0.288 levels. The main breakout zone is still near the USD 0.300 level. On the downside, the USD 0.265 and USD 0.255 levels could provide support.
Other altcoins market today
Many altcoins climbed over 10%, including CELO, CRV, HEDG, UMA, MANA, NXM, KNC, RUNE, BAT, XTZ, QNT, and AAVE. Out of these, CRV is gaining bullish momentum above USD 1.90.
To sum up, bitcoin price is recovering losses above USD 31,200. However, BTC could face a strong selling interest, starting from USD 32,200 and up to USD 33,000 in the near term.
_____
Find the best price to buy/sell cryptocurrency: