Bitcoin price started a downside correction below the USD 32,500 support. BTC declined over 15% and it even spiked below USD 30,000. The bulls were active near USD 28,500 and the price is currently (13:00 UTC) trading above the USD 30,000 level.
Similarly, there was a sharp downside correction in most major altcoins, including ethereum, EOS, XLM, LINK, BNB, OMG, NEO, TRX, bitcoin cash, DOT, litecoin, and ADA. ETH/USD surged towards the USD 1,175 level before it corrected over USD 250 and tested the USD 900 level. XRP/USD is still trading in a range above the USD 0.212 and USD 0.200 support levels.
Total market capitalization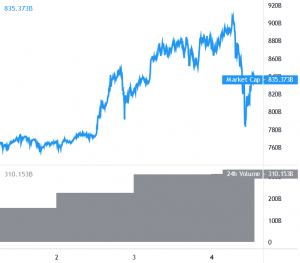 Bitcoin price
In the past two sessions, bitcoin price saw a couple of swing moves below USD 32,500. BTC declined heavily below USD 30,000 and USD 29,500. It found support near the USD 28,500 zone and recently started a fresh increase. The price is back above the USD 30,000 level and it seems like it could continue to rise towards the USD 32,500 resistance level (the recent breakdown zone).
If there is a fresh decline, the price might find bids near the USD 30,000 level. The main support seems to be forming this week near the USD 28,500 level.
"The pullback worth 3,319.5 points that happened in a single 4-hour candlestick clearly indicates how much traders are ready to buy the dips. Much of these buys are likely coming from institutional and professional investors who have enough capital to buy bitcoin at these high levels," Konstantin Anissimov, the Executive Director at CEX.IO, said in an emailed comment.
According to him, every such dip is likely going to be "an excellent buying opportunity" in the coming weeks, and it is possible that BTC/USD will go back to 34,000 today.
If you are new to #Bitcoin and experienced a rapid 10%+ drop after a multi 10% rise, don't get scarred. This is how… https://t.co/spS2wTRvdh

— Gabor Gurbacs (@gaborgurbacs)
Ethereum price
Ethereum price extended its rally above the USD 1,000 and USD 1,100 resistance levels. ETH gained over 35% and traded to a new multi-month high above USD 1,150 before correcting lower. There was a sharp decline below USD 1,050 and USD 1,000.
The price even spiked below USD 900 before the bulls took a strong stand. The price is recovering and it might close above USD 1,000. If it succeeds, there could be a fresh increase above this level.
"Ethereum at USD 1K is no nine-day wonder. With bitcoin's skyrocketing prices institutional investors are hard pressed to diversify their portfolios. Unlike BTC, however, ETH lacks a digital gold narrative and is instead a fresh target for a different breed of institutional investor – one interested in its long-term technological promise, revived by the launch of ETH 2.0's [Phase 0]," Antoni Trenchev, Co-founder and Managing Partner of Nexo, said in an emailed comment.
According to him, from the retail perspective, the ETH rally is a collateral effect of the psychological barrier posed by the current high BTC's valuation.
"This effect is magnified by the fact that ETH, even at USD 1K, is still far from its 2018 peak of USD 1,432, making the current price more appealing and highlighting the community's post-beacon chain enthusiasm," Trenchev added.
Bitcoin cash, litecoin and XRP price
Bitcoin cash price rallied above the USD 450 and USD 460 levels. BCH also corrected lower similar to ETH and BTC. The price is now trading near the USD 400 support. As long as it is above USD 385 and USD 400, there could be a fresh move towards the USD 435 and USD 450 levels. Conversely, it could test the USD 350 support.
Litecoin (LTC) traded close to the USD 175 level before it started a drop. LTC spiked below the USD 160 and USD 150 levels. However, the bulls protected the USD 130 zone and the price is back above USD 150. If it continues to accelerate higher, there are chances of a move towards the USD 175 level.
XRP price is stuck in a key range above the USD 0.212 and USD 0.205 support levels. The price is slowly rising towards the USD 0.242 and USD 0.250 resistance levels. A close above USD 0.250 and USD 0.265 is a must to start a steady increase in the coming sessions.
Other altcoins market today
Many altcoins are still holding gains and are up, including YFI, ADA, ETC, EGLD, OMG, VET, UMA, LINK, and TRX. Out of these, ADA is trading above the main USD 0.200 support zone.
To sum up, bitcoin and altcoins saw a sharp correction, but the bulls seem to be putting up a strong fight. If BTC closes above USD 32,500 and ETH settles above USD 1,000, there are chances of a fresh rally in the coming sessions.
_____
Find the best price to buy/sell cryptocurrency: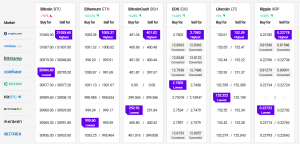 __
(Updated at 13:34 UTC with a comment from Konstantin Anissimov)