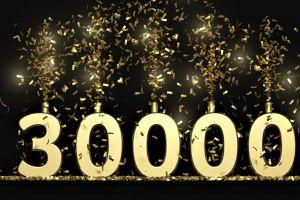 On the eve of its 12th birthday, the most popular cryptocurrency, bitcoin (BTC), surpassed another milestone, jumping above the USD 30,000 level just a bit more than in two weeks after it returned to USD 20,000. Moreover, in a matter of hours, it hit USD 33,000. (Updated at 19:38 UTC with the latest price data. Updated at 19:45 with additional comments.)
At the time of writing (19:36 UTC), BTC trades at USD 33,068 and is up by 14% in a day and 28% in a week. The price rallied by 70% in a month and 350% in a year.
BTC price chart: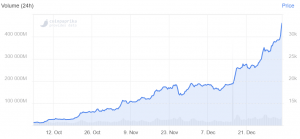 It is also the best performing major coin today. Other cryptoassets from the top 10 club are up by 1%-14%, except XRP (-5%).
BTC "will be on the road to USD 50,000 probably in the first quarter of 2021," Antoni Trenchev, Managing Partner and Bo-founder of major crypto lender Nexo, told Bloomberg.
"When any asset climbs in price this fast for an extended period of time I become cautious, and I'd urge anyone trading BTC to not get caught up in the euphoria," Nicholas Pelecanos, head of trading at NEM, told CNN. However, he predicts bitcoin could rise to USD 50,000 by Valentine's Day. "I believe we are just at the beginning of what will be an immense bull market."
"It's very likely that the asset will eventually pass USD 100,000 per coin," Sergey Nazarov, Co-founder of Chainlink (LINK) wrote in an email to Reuters. "People have been steadily losing faith in their government currencies for years, and the monetary policies resulting from the economic impact of the coronavirus have only accelerated this decline."
Tomorrow, January 3rd is the 12th anniversary of the first block in the Bitcoin blockchain mined, also known as the Genesis block.
As reported, only BTC 4.2m (22%) are currently in constant circulation and available for buying and selling. However, it also estimated that, in 2021, the aggregated BTC exchange balance will rise as more holders seek to realize profits or to trade other cryptocurrencies.
Also, the interest in BTC keeps rising, according to Google data.
_____
Learn more:
Bitcoin Wheel Cannot Be Stopped
Bitcoin, Ethereum, XRP, Bitcoin Cash, Litecoin, Chainlink Price Predictions for 2021
Crypto in 2021: Bitcoin To Ride The Same Wave Of Macroeconomic Problems
Crypto Adoption in 2021: Bitcoin Rules, Ethereum Grows & Faces Rivals
Crypto in 2021: Institutions Prefer Bitcoin, Retail Open to Altcoins
Corporate Treasuries Caught Between an Inflation Rock and Bitcoin
___
Reactions: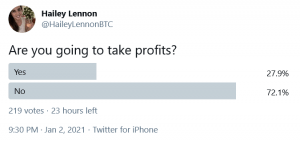 #BTC

— Mr. Anderson (@TrueCrypto28)
There was no resistance at $30k where everyone thought there will be. I suspect that the bull market just started.

— Ran Neuner (@cryptomanran)
Just to put things into perspective: With a market value of $563bn, #Bitcoin is now more valuable than all but nine… https://t.co/u1sgDOirks

— Holger Zschaepitz (@Schuldensuehner)
Today in Georgia we havd celebration called Bedoba – Fate Day ##Whatever happens will be the course for the rest of… https://t.co/rAgPtis2En

— George Kikvadze 🚀 (@BitfuryGeorge)