The text below is an advertorial article that was not written by Cryptonews.com journalists.
BSC Insurance Project Soteria Launched IFO with Great Success, Setting New Record of Total Fund Raised Reaching 2272.61%
Soteria, a popular insurance platform on Binance Smart Chain (BSC), officially launched its IFO at 4:00 pm (Singapore time) today with PancakeSwap, attracting a lot of attention. As soon as the IFO launched, the fundraising limit was triggered within one minute, and the total fundraising amount reached 2272.61%, breaking the previous highest record of 1400% in PancakeSwap history. Within the one hour of the IFO, over 1,000 users participated. All these data prove the popularity of Soteria, as well as its potential and currency support of SOTE.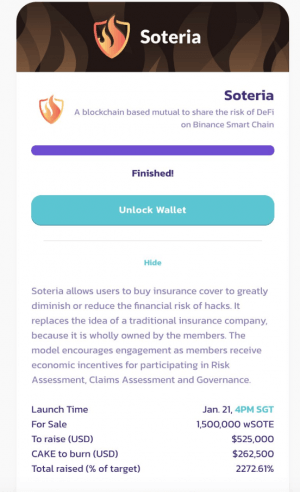 After IFO, PancakeSwap also added Soteria to its Syrup Pool at 5:00 pm (Singapore time). From 5 pm on January 21st to 5 pm on February 20th, within 30 days, users can pledge CAKE tokens in the Syrup Pool and a total of 200,000 wSOTE tokens will be available. In order to better stimulate the liquidity of the wSOTE Syrup Pool, Pancake will also provide a wSOTE-BNB farm. Users will have 2x CAKE rewards for the first 48 hours and then 1x CAKE rewards after 48 hours. In other words, in addition to participating in the IFO of the platform, users can either obtain additional wSOTE tokens by staking CAKE, or participate in wSOTE-BNB to obtain CAKE. At present, the annualized profit of wSOTE-BNB LP mining is as high as 502.72%.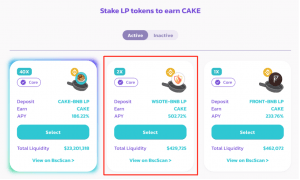 It is worth mentioning that the price of SOTE at IFO this afternoon was $0.35. However, this morning, many visionary users began to exchange SOTE at the price of 0.010282936156909821 BNB (about $0.45) on the Soteria platform. According to data from Soteria.finance, as of 10 o'clock in the morning, nearly 700 users continue to purchase SOTE through Soteria platform, injecting BNB worthy of $500,000, with the premium exceeding 28%, and the total fund has exceeded the IFO fundraising limit. Therefore, it is predictable that the IPO this afternoon would be extremely popular and the raised funds would exceed expectation.
Soteria launched BSC on January 13. Subsequently, the PancakeSwap insurance service provided by the Soteria platform was launched at 18:00 on January 19, and users pledged over 500,000 SOTE within 5 hours. Soteria currently has 590 members and the volume of the fund pool reached 11,290.27 BNB ($478,479.87).
Soteria is a mutual insurance platform based on BSC, which can provide insurance for losses caused by vulnerabilities in smart contracts and hacker attacks, and then provide risk protection for DeFi products. Through pledged tokens, users are both gainers and risk bearers. Token holders can use the tokens to determine how much insurance coverage a project can have, and decide whether to approve claims, etc. PancakeSwap is a decentralized exchange that runs on the BSC and is also an automatic market maker that allows two tokens to be exchanged on BSC.