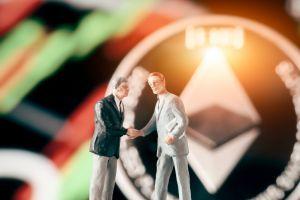 While ethereum (ETH) outperformed and was more volatile than bitcoin (BTC) in 2020, and as decentralized finance (DeFi) is expected to expand it further, the ETH community still needs to try harder in clarifying the Ethereum narrative, according to major crypto exchange Coinbase.
Ethereum's "design properties, value propositions and potential future states are less widely understood by the market," the company said in their 2020 in review report.
While bitcoin is now mostly seen as digital gold, Coinbase stressed that there is "the need for the [ETH] community to settle on a clearer, simpler narrative that can be easily understood by newcomers." This project's narrative is still evolving and the company expects to see it form in the coming years.
Meanwhile, Ethereum's story is convoluted, they said, with investors evaluating the potential value of network's future use cases, how gas fees may correlate with such usage and drive demand for the ETH token, and Ethereum's supply and issuance schedule.
Just recently, as reported, popular generalist investor and bitcoin investing app Swan Bitcoin advisor, Lyn Alden, also described Ethereum as an unfinished product with changing core underlying mechanics and a changing monetary policy.
While most institutional clients bought bitcoin in 2020, said Coinbase, "a growing number" of them also took a position in ETH. The case for owning Ethereum the exchanges' clients give most often is a combination of:
its evolving potential as a store of value,
and its status as a digital commodity that is required to power transactions on its network.
Furthermore, many clients see DeFi as one of the most important growth developments for Ethereum, finding that DeFi has "long-term potential to reinvent financial products and services with open-source, decentralized software, and that Ethereum may become the primary settlement network underpinning this new financial system."
Many of the clients also find that sharding, which will come as part of the Ethereum 2.0 rollout, will be only a temporary or partial solution for scalability issues, and that expanding throughput capacity will remain "a constant battle."
In 2020, the daily rate of on-chain Ethereum transactions accelerated, moving from 467,000 on January 1 to 1.16m on December 31, reflecting the network's growing DeFi and stablecoin activity, said Coinbase.
The total value locked in DeFi is currently USD 25.33bn, and there is 7m locked ETH (USD 930m). Jeremy Allaire, CEO of crypto financial services firm Circle, estimates that DeFi will only grow further.
New ETH ATH, entire DeFi landscape set to see explosive growth.

— Jeremy Allaire (@jerallaire) January 25, 2021
Meanwhile, Galaxy Digital CEO Mike Novogratz sees a new price target and all-time high for ETH to hit – USD 2,600 – though the time frame is unclear.
I had lunch with @ethereumJoseph today. Always makes me want to buy more $eth. Nice start to the week. Chart targets 2600.

— Mike Novogratz (@novogratz) January 25, 2021
That said, Galaxy Digital will be launching the Galaxy Ethereum Fund, a new fund focused on ETH, enabling institutions to gain exposure to the world's second largest crypto. The Fund will invest directly into ETH, it will be priced based on the Bloomberg Galaxy Ethereum Index, and the assets will be held in custody by crypto exchange Gemini, they said. Additionally, the company will offer two institutional funds for onshore and offshore investors.
ETH outperformed BTC in a month and a year – 107% to BTC's 17%, and 702% to BTC's 274%, respectively – but it has also been more volatile, which can partly be explained by its shorter life and smaller market capitalization compared to bitcoin (USD 152bn vs. USD 599bn), according to Coinbase. At 11:25 UTC Tuesday morning, ETH was trading at USD 1,329, having decreased following yesterday's all-time high. It dropped 5% in a day and 4.6% in a week. Meanwhile, bitcoin dropped 3% in a day and 13% in a week to USD 32,205.
___
Learn more:
Ethereum Rally Fuelled by DeFi, Can Bitcoin Get Some of This Fuel Too?
Ethereum In ATH Territory Against USD, But Far from ATH Against Bitcoin
Bitcoin vs. Ethereum Fight Escalates amid Fresh Capital Entering the Space
Bitcoin Snowball Is Expected To Hit More Institutions in 2021
Ethereans Write Rebuttals, While Still Closed Grayscale Ethereum Trust Shrinks
Ethereum's Upgrade Runs Into an Obstacle as Some Miners Try To Stop It