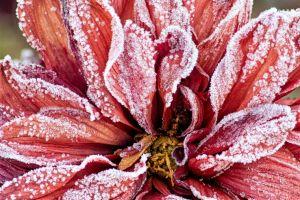 Crypto spring got a touch of the chills today, as, in the midst of what many have called altseason, the markets turned red.
However, altcoins may be set to receive some of the money going into bitcoin (BTC) and ethereum (ETH), according to data from the crypto analytics firm Coin Metrics.
In the past 24 hours, all top 10 coins by market capitalization and the majority in the top 100 have fallen into the red. Litecoin (LTC) currently (16:43 UTC) leads the pack, followed by polkadot (DOT), with both dropping by more than 7%. Bitcoin and ethereum are down by 8%.
That said, there has been plenty of green to be seen in the past seven days, with DOT going up 87%, chainlink (LINK) appreciating over 46%, as well as cardano (ADA) (+22%). Ethereum, meanwhile, has risen by almost 25%.
Top 10 best-performing altcoins among the top 100 coins by market capitalization in the past week: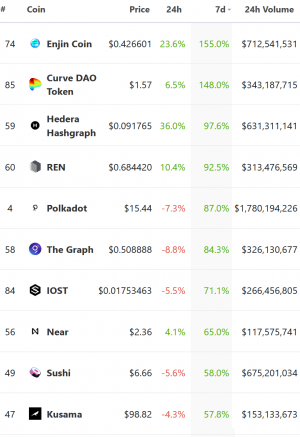 And there seems to be more good news on the horizon for altcoins.
In its January 19 State of the Network report, Coin Metrics analysts stated that,
"With new capital flowing into BTC and ETH, some of that money may start flowing into altcoins."
The report's authors argued that "it's starting to feel a lot like altseason," and even though many altcoins have failed over the years, there are also "plenty of legitimate, innovative projects" out there.
The rise of decentralized finance (DeFi) is of particular note, as "more investors are looking to diversify into smaller holdings."
The report found that many DeFi tokens have outperformed both BTC and ETH since the beginning of December 2020 until the time the report's publishing, namely: uniswap (UNI), AAVE, synthetix (SNX), makerDAO (MKR), sushiSwap (SUSHI), and curve (CRV).
Money flowing into altcoins "largely held true in the retail-driven 2017 rally," but the current run is different, the authors claims, as it seems to be driven by institutional investors instead. They added,
"Altcoin investing is largely considered a retail phenomenon. Similar to penny stocks, it's often driven by individual investors looking for outsized gains. Institutions mostly stick to BTC and potentially ETH, given their liquidity requirements and risk profiles. But as crypto prices keep going up more and more retail investors are starting to get back on board."
As reported, experts have claimed that BTC has become a mainstream hedge as a store of value for a diversifying set of investors, with altcoins also set for a retail boost further down the line.
But, Joe DiPasquale, the CEO of the crypto fund manager BitBull Capital, told Cryptonews.com that patience may be required as "only once bitcoin settles down in new price ranges can we expect retail interest to be directed towards altcoins."
Furthermore, Weiss Ratings' analyst team head Juan Villaverde and lead crypto-tech analyst Bruce Ng wrote that investors start to look for potentially higher returns in more risky investments after price run-ups in bitcoin and ethereum, adding that altcoins like these can often see much larger returns than bitcoin, due mainly to their smaller market capitalizations.
BTC and ETH have outperformed most other Layer 1 (L1) blockchain networks since December 1, said the report, with most competitors unable to keep up in the current rally.
As Cryptonews.com recently reported, both surpassed or came very close to bettering their respective all-time highs recently.
However, certain altcoins, such as cardano (ADA) with a rise of 121.5% and decred (DCR) with a rise of 126.2% since December 1st, have outpaced both BTC (81.15%) and ETH (110.2%).
Also, dogecoin (DOGE) has outperformed many other cryptoassets after being hyped on TikTok and getting a name-check from Elon Musk.
The CEO of the heavy-hitting crypto exchange Binance, Chanpeng "CZ" Zhao, noted that bitcoin is "the entry coin into crypto," but added that it has its limitations as a "fairly basic blockchain."
Therefore, to attain the "true mass adoption" of crypto, many other blockchain networks will be needed, he suggested.
"I see a future world with thousands of blockchains and millions of tokens," CZ opined.
As reported, another major crypto exchange, Coinbase, claimed in May last year that although most of the users initially favored BTC, the vast majority would go on to trade altcoins.
Coinbase said,
"Among customers with at least five purchases, 60% start with bitcoin. But just 24% stick exclusively to BTC."
____
Learn more:
Three Quick Predictions For Altcoins in 2021
Bitcoin Snowball Is Expected To Hit More Institutions in 2021
Not Only Bitcoin Price Is Changing During This Bull Run
What's in Store for Ethereum in 2021?
Bitcoin, Ethereum, XRP, Bitcoin Cash, Litecoin, Chainlink Price Predictions for 2021