Over the course of this week, Bitcoin jumped over USD 41K to the delight of many, setting its sight on the 50K level, with JPMorgan strategists saying its long-term target should be above USD 146,000. Bitcoin, ethereum, and stablecoin camps 'fought' over who benefits more from the major OCC news, while ETH fans 'bragged' about the new all-time high the fees, racing ETH prices seemingly failed to impress Chinese crypto users, and ETH and BTC locked in DeFi took a plunge as staked ETH keeps rising. Meanwhile, more bad news for XRP might be proving that crypto market has matured as it keeps rising, yet XRP rallied as well, despite Ripple confirming a failed settlement with the SEC. The owner of Bitstamp and Korbit reportedly made a deal to buy a controlling stake in Bithumb, but then NCSoft outbid it.
Then, as IRS updated their instructions to tax individual crypto investors, the Chinese central bank reportedly green-lighted a "hard wallet" smartphone-free pilot for its digital yuan, and another Russian expert said neither consumers nor banks are yet sold on the idea of using a digital fiat, while 2021 may have some less-than-welcome surprises in store for the Russian crypto community. South Korean lawmakers don't need to report their crypto holdings or cryptoasset-related earnings, an expert said 'kimchi premium' return media reports might be exaggerated, a South Korean software behemoth wades into the DeFi arena, and the third major South Korean bank is set to enter crypto custody fray. Blockstream launched a battery-powered hardware wallet, and as Tom N Toms plans to launch a 'cryptoasset', angry Telegram investors demand that the founder, sell his stake and pay off the ICO debts. We also learned that the DeFi 'genie is out' and what's potentially in store for ETH this year. Meanwhile, a trader was robbed of 15 BTC, while a crypto-stealing malware targeted at least 6.5k victims.
And here is your well-deserved set of jokes.
__________
Morning, Crypto Twitter! Wow, haven't seen you this united since approximately ever.
Morning, lets get to 40k shall we? pic.twitter.com/84ga0RKyga

— Panama Crypto (@Panama_TJ) January 7, 2021
__
And then, this happened, and further it went.
The run up above $40k 💪 from r/Bitcoin
__
We apparently have a task to complete at 50K… 👀
slightly alarmed this tweet has so many likes hhh https://t.co/Tnvk0XARGU

— Matthew Graham (@mattysino) January 6, 2021
__
And after that, we proceed like this. Bumpy (to say the least), but one hell of a ride.
pic.twitter.com/hSJTIXdA9J

— Crypto₿ull (@CryptoBull) January 5, 2021
__
What do we do in the meantime?
Hands weak, bags are heavy from r/CryptoCurrency
__
Look how far we've already come.
pic.twitter.com/0zeF6dON7Z

— Crypto₿ull (@CryptoBull) January 8, 2021
__
…I read the first tweet as a poem, so there you go.
Indeed. This is the exact moment the bear market died. 😂

Sound on. 🔉 pic.twitter.com/2yUiw1CbOq

— PUBLORD.HODL ☣ (@guydbennett) January 8, 2021
__
Another way to look at it all.
Crypto market is worth 5.5 Jeff Bezos.
Ain't that a milestone? pic.twitter.com/cPVuUACnfT

— The Crypto Monk ⛩️ (@thecryptomonk) January 7, 2021
__
Here's one more. And while were at it, has anybody seen Satoshi and/or Jack by any chance?
Whereabouts of both founders unknown. https://t.co/s3vKHeRI6X

— Geoff Lewis (@GeoffLewisOrg) January 6, 2021
__
Some things are just tough to watch.
OG watches on as retail n00b explains Bitcoin …pic.twitter.com/eXmv6Ui94B

— Alistair Milne (@alistairmilne) January 4, 2021
__
And some are really tough to go through.
Pleas fly again from r/Bitcoin
__
You see… Rough stuff.
We've all been there. from r/CryptoCurrency
__
Nothing I say here could beat the comment section.
Meanwhile, Coinbase servers: from r/Bitcoin
__
Well, look, with a wait that long, something's gotta smell.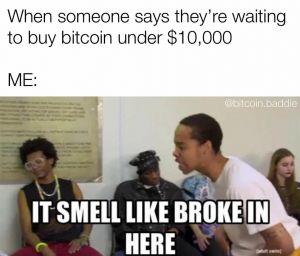 __
Now that was a dip!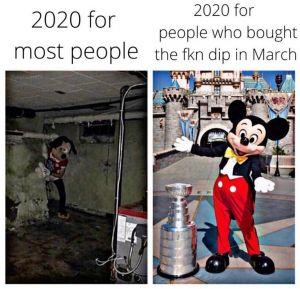 __
A bit of a large bite there, eh?
Rare footage of an institution trying to hoover up all the bitcoin. pic.twitter.com/GDUUuAqRav

— Jameson Lopp (@lopp) January 8, 2021
__
New love blossoming.
I love you occ….will you marry me pic.twitter.com/MPcjPp1Tgg

— Lefty (@CryptoBananas) January 5, 2021
__
Here's an all-start mix.
2021 is going to be great!

(video courtesy @TheKiffness and /u/anonymousoctopus777) pic.twitter.com/ldQoJie8n4

— Riccardo Spagni (@fluffypony) January 7, 2021
__
For the end of an excellent week, here's a crypto movie for you.
Bitcoin tricking the Fed and Institutional Financial Industries to adopt it explained by Spirited Away from r/Bitcoin
__
And a song for your listening pleasure.
[embedded content]