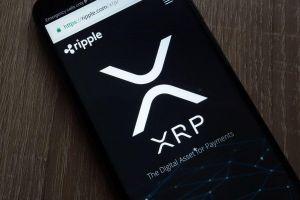 There are more bad news coming for XRP, following the recent lawsuit filed against major US-based blockchain company Ripple – as yet another major exchange stops trading, an investor sues Ripple looking to force a stock redemption, and the number of addresses with XRP 1m or more has dropped sharply. However, some argue that "the fall of XRP demonstrates the newfound strength of the crypto market."
The fifth cryptoasset by market capitalization – having dropped from the third spot since the lawsuit – can't catch a break it seems. Among the latest news, major crypto exchange and wallet provider Blockchain.com announced that it will halt XRP trading beginning Thursday, January 14 this year.
The announcement said that the customers who have XRP balances will still have access to their XRP to send after the trading is halted, but Blockchain.com will no longer support receiving more XRP in the exchange.
Commenters to this latest development have been pointing to Uphold as a place to move their XRP or buy more. As reported, Uphold said it will continue listing XRP unless/until XRP is legally determined to be a security, or until trading volume dissipates to a point where the platform can't support XRP any longer.
But Blockchain.com is only the latest in the line of smaller and larger exchanges and wallets, such as Coinbase, Bitstamp, and Bittrex, who decided to stop trading XRP in the US.
"With the removal of XRP from most major cryptocurrency exchanges with United States users, we believe that there will be substantial capital outflows into bitcoin and ether. Ultimately, this should add further fuel to the ongoing rally," said Craig Russo, Director of Innovation at early-stage business incubator Polyient, in an emailed commentary.
Meanwhile, Seamus Donoghue, VP Sales and Business Development of METACO, argued that "the fall of XRP demonstrates the newfound strength of the crypto market," as, were the lawsuit taken place in 2017, "the news would have crashed the entire crypto market and we would have seen a flight of capital out of crypto."
However, we see "a sign of the market maturing that despite the SEC's pursuit of XRP, the total crypto market cap has risen continuously since the news broke," led by BTC.
Donoghue finds that, "instead of running away from crypto XRP holders have switched into more credible cryptos such as bitcoin, ethereum and polkadot."
As a reminder, the US Securities and Exchange Commission (SEC) filed a lawsuit against the company and two of its executives alleging, among other things, that they raised over USD 1.3bn through an unregistered, ongoing digital asset securities offering. Ripple now seems to have placed their hopes in the new SEC leadership, questioning the motivations of the old one as they "permitted XRP to function as a currency for over eight years." Meanwhile, XRP investors filed a petition against the SEC at the end of December, claiming "irreparable harm and damages" that declaring XRP a security causes them.
And now, a UK investment company Tetragon Financial Group Ltd. sued Ripple, reported Bloomberg. It's seeking to "enforce its contractual right to require Ripple to redeem" Series C preferred stock held by Tetragon, to block Ripple from using any cash or other liquid assets until the payment is made, and to gain a temporary restraining order, a preliminary injunction and an expedited trial.
Meanwhile, the price of XRP dropped almost 4% in a day to USD 0.227 (at 10:29 UTC). It appreciated by 7% in a week and fell nearly 63% in a month, trimming its gains over the past 12 months to less than 6%. And as this was happening, the number of addresses holding at the very least XRP 1m has plunged since the lawsuit announcement, said blockchain/cryptocurrency analytics firms Coin Metrics. The number dropped from 1,721 on December 21, the day before the announcement, to 1,567 by January 3.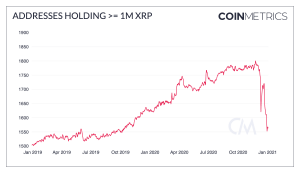 In the meantime, 2020 was among the best for a major XRP holder, said an updated report from blockchain analytics account Whale Alert. Ripple co-founder and Stellar (XLM) Chief Technology Offcer Jed McCaleb sold XRP 1.2bn for USD 411m in XRP in 2020, bringing the total value of his sales to USD 546m. "Combined with the remaining 3.274 billion settlement XRP, the estimated total value of his XRP holdings and sales is around [USD] 1.2 billion (at the current price of [USD] 0.20 per XRP), making him one of the richest persons in crypto," said the report.
____
Learn more:
Fact-checking Ripple's Claim that 'Many G20 Gov'ts' Call XRP a 'Currency'
Coinbase to Face Class Action Suit over XRP Listing
XRP Deemed a Security Wouldn't Harm Ripple, but Might Hurt US – CEO
Crypto Regulation in 2021: The Piecemeal Approach & New Winds