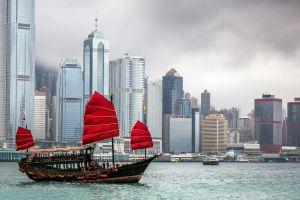 The Very Smart Financial Group (VSFG) and its Arrano Capital blockchain arm have reportedly won regulatory approval to launch Hong Kong's first Bitcoin exchange-traded fund (ETF).
Per a report from JRJ, access to the offering will be restricted to professional investors.
VSFG said it has won regulatory approval for the fund from the Hong Kong regulatory Securities and Futures Commission (SFC) for the issuance.
The fund's masterminds, in their recently updated prospectus on the Hong Kong Stock Exchange, said they hope to raise USD 100m with the new ETF.
Arrano Capital launched Hong Kong's first regulated crypto index fund in April last year, claiming that the fund tracks bitcoin (BTC) prices, using tracking technology co-developed by CryptoCompare and MV Index Solutions, as well as a conventional fund structure that will allow institutional investors access to crypto.
But it now appears that this index will become available as an ETF, likely operating on Hong Kong's leading stock exchange.
A cap of 10% has been placed on the fund's crypto make-up in the fund's portfolio.
VSFG provides financial management services for wealthy customers, companies, and financial institutions. It also offers a number of sales and advisory services, as well as asset management services – factors that could potentially open the door to crypto for some of the region's most affluent individuals and firms.
As reported, in the US, financial advisors claim that an ETF would be the top choice for them when it comes to investing in crypto. Many hope that a Bitcoin ETF would launch in the US eventually in order to give the sector more legitimacy in the financial community. At the end of December, major US asset manager VanEck has once again submitted an application to the US Securities and Exchange Commission for a Bitcoin ETF, the "VanEck Bitcoin Trust." A the same time, Canada could soon witness the launch of another Bitcoin ETF after Arxnovum Investments submitted documentation to the Ontario Securities Commission for what it has called the Arxnovum Bitcoin ETF.
At the time of writing (09:20 UTC), BTC trades at USD 38,255 and is up by 9.5% in a day and 3% in a week. It doubled in a month and rallied by 345% in a year.
____
Learn more:
Why US BTC ETFs Matter if 'No One Cares' About European ETNs and ETPs
What Is Bitcoin Exchange Traded Crypto and What Impact Could It Have?
Crypto in 2021: Institutions Prefer Bitcoin, Retail Open to Altcoins