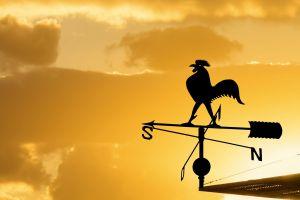 The South Korean crypto firm Dunamu, the operator of the market-leading Upbit trading platform, has launched a real-time digital assets "fear-greed" gauge that it claims will help crypto enthusiasts measure whether traders are spooked, clambering for profits – or somewhere in between.
In a press release, Dunamu stated that its analog-looking Fear-Greed Index tool was now live. The tool has been designed to resemble an old-fashioned speedometer, and is currently running way up in the red, with – at the time of writing – a score of over 82 out of 100, and a reading of "extreme greed."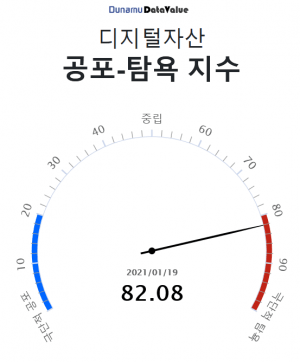 (Meanwhile, another popular Fear & Greed index by Alternative.me is at 80 today.)
Venturing into the red of high greed – or the polar opposite of blue (extreme fear) – is an indicator of potential high volatility, the firm said, as well as possibly high trading volumes.
The firm released a methodology "book," which lives up to its name, explaining the complicated-looking mathematics the firm's eggheads are using to provide the data powering the gauge.
The tool, which starts updating on a five-minute basis from 9 AM every day, also provides historical data, so economists of the future will be able to delve into the records and see when traders were at their most greedy, and when they started running scared.
The tool shows that over the past month, the market has been in full "extreme greed" mode, while yesterday traders were just "greedy."
Dunamu said that it developed the tool as no such instrument existed in the South Korean market. Instead, crypto traders had been forced to use international fear-greed indices, which are not developed in sync with East Asian time zones and the needs of South Korean crypto traders.
___
Learn more:
Ethereum In ATH Territory Against USD, But Far from ATH Against Bitcoin
Did This USD 140B Manager Just Write a Guide For a Bitcoin Hodler?
This Is The Biggest Risk To Crypto Market According to Pantera Capital CIO