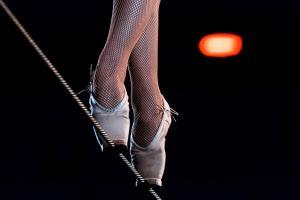 2021 could be the year when stablecoins move deeper inside the non-crypto markets, with some expecting the total value of stablecoins almost tripling and surpassing USD 100bn this year, according to industry figures.
Market capitalization of stablecoins already jumped by around sixfold in the past year, surpassing USD 35bn, as trading on crypto exchanges intensified, DeFi (decentralized finance) exploded, while demand for these "internet dollars" is said to be increasing among both regular people and businesses also.
"I'm very excited about the growth of stablecoins, expecting the total value of stablecoins to hit [USD] 100bn in 2021. Cheap market access to financial products for everyone on the planet is always exciting," Matthew Gould, Co-Founder and CEO at Unstoppable Domains, a company building blockchain domain names, told Cryptonews.com.
And he's not alone in the USD 100bn club. Simon Seojoon Kim, CEO and Managing Partner at South Korea-based blockchain accelerator Hashed, also estimates that stablecoins based on public blockchain will exceed this number in 2021.
"For public blockchain supporters, it is only reasonable to expect that stablecoins will further gain importance in crypto exchanges, DeFi, and ultimately diverse areas of the fintech sphere including payment, remittance, investment, etc.," he said recently.
At the same time, major investment firm Blockchain Capital, estimated that USD-pegged stablecoin market issuance surpasses USD 150bn this year.
Also, according to Jonathan Zerah, Head of Marketing at private messaging application Status.IM, we will begin to see increased use of stablecoins in marketplaces outside of DeFi platforms in 2021. Instead, "we will see more goods and services based marketplaces arise with increased confidence to enter them."
'People will decide'
Paolo Ardoino, Chief Technology Officer (CTO) at Tether, the issuer of the most popular stablecoin, tether (USDT), and its sister company, major crypto exchange Bitfinex, also argued that "2021 may be the year that stablecoins penetrate non-crypto markets more deeply, helping to increase mass adoption."
He stated that, as digitized currencies become a new norm, we'll see the differences between using stablecoins to transact versus fiat narrow, and "people will decide which to use based on how they can be leveraged in new financial systems."
"As new users begin to enter into the marketplace and their knowledge increases, they may turn to stablecoins as a store of value. This could have interesting implications for those holding cash on their balance sheets," the CTO added.
As for tether, Ardoino said that, while long-term success is difficult to predict due to the continually shifting environment, the team wants this coin "to play a key role in the crypto ecosystem and to continue to represent the common denominator among different leading blockchains."
Meanwhile, the whole crypto industry is following a legal battle between Tether, Bitfinex and the New York Attorney General, where "any number of things can happen." However, as reported, in case regulators stop Tether, it would most likely have to take place over a staggered period of time to protect investors. Moreover, as OKEx CEO Jay Hao said previously, "If we have learned anything over the years, it's that Bitcoin and the wider cryptocurrency space are very resilient."
Pegs and algorithms
"[It] will be interested to see how the regulatory landscape develops," Philippe Bekhazi, CEO of stablecoin platform Stablehouse said, adding that he hopes "to see society continue to warm to the idea" of stablecoins that might have "many more underlying currencies."
And it's not only the USD-pegged stablecoins that may see some growth this year, as Ilia Maksimenka, Founder of digital payment platform PlasmaPay, said,
"Elsewhere, stablecoins such as USDT and USDC also enjoyed fantastic growth in 2020, so it would make sense for stablecoins pegged to other fiat currencies besides the dollar to gain far greater exposure too."
Top stablecoins by market capitalization: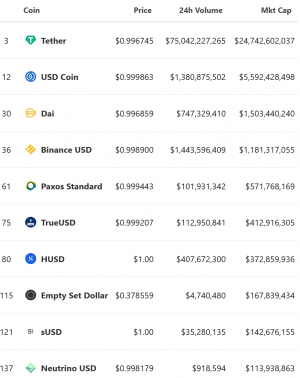 Meanwhile, Simon Seojoon Kim estimates that stablecoins issued based on algorithms or crypto collaterals such as DAI with sufficiently decentralized and operating entities will prove more successful than centralized stablecoins to withstand against time-and-time tested obstacles of abuse and censorship.
Furthermore, the possible arrival of Diem (formerly, Libra), a long-awaited coin by the Facebook-backed Diem consortium) will bring "an increase in awareness, ease of use and breaking down the wall gardens in the use of the various stablecoins that will be available," argued Monica Singer, the South African Lead for major Ethereum (ETH)-focused blockchain company Consensys.
However, the seemingly bright future of stablecoins might be darkened by regulators as Diem and other so-called "global stablecoins" face backlash from governments of major countries that are now worried about their fiat money-based financial system and are working on their own central bank digital currencies (CBDCs).
__
Learn more:
Stablecoins Might Be Better Than Bitcoin For Payments, But Maybe Not For Long
Imagine Regulators Shutting Tether Down – What Happens to Bitcoin?
Stablecoins Will Have to Adapt to Survive Coronavirus Recession
Zero Interest Rates Not The Only Driver For Stablecoin Demand
Bitcoin, Ethereum & Stablecoin Tribes Fight Over Benefits Of OCC News
Stablecoins Get Another Headache In US, Ethereum Camp Feels Attacked Too
Visa Makes Stablecoin Push With Circle's USDC
Stablecoins May Threaten EU Market Integration And Interoperability – ECB
Bitcoin Strongest In North America, Asia More Open to Stablecoins, Altcoins
Stablecoins Seen as Most Important Development in Crypto
___
Find more insights about the crypto trends in our special series Crypto 2021.