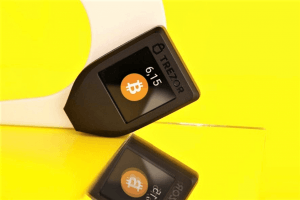 SatoshiLabs, the maker of the Trezor hardware wallet, saw a major increase in the popular wallet's sales in the last month of 2020, and one of the reasons for the boost in numbers was their competitor Ledger's ongoing data breach incident, according to the company's Chief Technology Officer (CTO).
"We have experienced a massive increase in our sales during the last two months of this year," Pavol (Stick) Rusnák told Cryptonews.com. The company declined to provide any numbers. In either case, per the CTO, there were three factors that contributed to this increase, but he emphasized that it's "almost impossible to isolate the distinct effect of any one." These are:
a strong Holiday season which started with Black Friday;
bitcoin (BTC) price rally, which eventually led to it crossing the previous all-time-high value set in 2017, and which brought an undeniable increase in demand for hardware wallets;
the publishing of Ledger's customer data on a hackers forum.
"December is traditionally a peak season for most businesses," said Rusnák, and although the company doesn't share exact numbers, "we can say that this December sales are absolutely off the charts when compared to earlier months or previous years." The CTO added that:
"The only period that was similar to what we are experiencing now was December of 2017 when bitcoin crossed the [USD] 10000 value for the first time."
As reported, their main competitor, Ledger found itself in boiling hot waters when, following a data breach it had suffered in summer 2020, a database reportedly containing more than a million email addresses of Ledger users and more than 270,000 physical addresses and phone numbers, was dumped on Raidforums, a website for sharing hacked databases, in the second half of December. Also as reported, it seems that the scammers who got their hands on the Ledger users' information have also been trying to scam Trezor users.
Similarly to what Ledger is doing, SatoshiLabs is also educating people on how to protect their cryptoassets from phishing attacks. "We are doing everything possible to minimize the potential impact of such leaks by automatically scrubbing all personal data from Trezor e-shop after 90 days from purchase," said Rusnák.
Meanwhile, in September 2020, Swiss hardware wallet provider Shift Crypto said it had disclosed a vulnerability in Trezor, after which SatoshiLabs paid a bounty fee to Shift Crypto and claimed it had fixed the issue in their previously upgrades.
As for their other endeavors, a few weeks ago, the company launched Invity.io, a cryptoasset rate comparison tool that streamlines crypto purchase and exchange transactions. SatoshiLabs also established Tropic Square last spring, the intention of which is to create the first fully-auditable and transparent secure chip. After a period of market research, the company is moving onto the development phase and the prototype of the chip – tentatively named TASSIC – Transparent Authenticated Secure Storage Integrated Circuit – is estimated to be available at the end of 2021.
"At present, Tropic Square is completely self-funded and is open to discussion with interested parties about investing in the company's development," they said, adding that the goal is to obtain an investment of EUR 4m (USD 4.9m).
____
Learn more:
Crypto Security in 2021: More Threats Against DeFi and Individual Users
Personal Data Leaks In Crypto Are Inevitable, Here's What Can Be Done
Blockstream Debuts Open-source Hardware Bitcoin Wallet