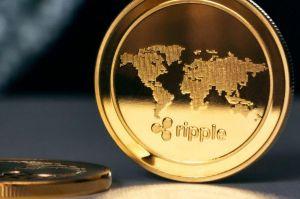 After a correction yesterday, XRP resumed its rally while major US-based blockchain company Ripple said it failed to settle with the US Securities and Exchange Commission (SEC) but promised to keep trying.
At the time of writing (10:19 UTC), XRP trades at USD 0.337 and is up by almost 12% in a day and 45% in a week, trimming its monthly losses to almost 37%. The price is also up by 60% in a year. XRP ir also the best-performing major coin today again, as other cryptoassets are showing mixed results.
XRP price chart: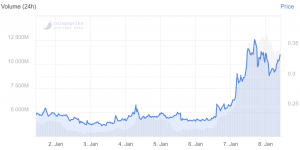 This comes as Ripple admitted it failed to settle with the SEC, or at least reach some sort of an unspecified agreement, following the lawsuit the regulator had filed against the company. Ripple CEO Brad Garlinghouse tweeted on January 7 that,
"Can't get into specifics, but know we tried – and will continue to try [with] the new administration – to resolve this in a way so the XRP community can continue innovating, consumers are protected and orderly markets are preserved. […] We're on the right side of the facts and of history, and look forward to our day in court – as well as engaging with the new SEC leadership once appointed."
As previously reported, the company is placing their hopes in the incoming SEC leadership that may be more crypto- and (specifically) XRP-friendly.
Garlinghouse provided answers to a few more burning questions in this thread. Echoing the words of Stuart Alderoty, General Counsel at Ripple, the CEO said that while the team keeps silent, they are still working. "Things may seem quiet, but there is plenty happening behind the scenes. We'll be filing our initial response [to the SEC] within weeks."
Speaking of Alderoty, he added that their "full legal team will announce themselves shortly."
Garlinghouse was asked if Ripple paid exchanges to list XRP and when it would be relisted, to which he replied that "Ripple has no control over where XRP is listed." He added that there is a difference between delisting and halting, with most exchanges doing the latter.
As for paying customers to use XRP, Garlinghouse said they provided some customers with incentives to use Ripple's ODL (On-Demand Liquidity), which is "totally lawful" with every payments network doing it.
Lastly, replying to a question whether investors have faith in Ripple, the CEO said "Yes, we have real shareholders. That is how you own Ripple equity – buying our stock, not buying XRP," adding that the company is "disappointed that Tetragon (who owns 1.5% of Ripple) is seeking to unfairly advantage itself through the SEC's allegations."
But, while there are many voicing out their support, based on the comments to Garlinghouse's tweets, it seems that there are also many who are not so sure about the answers given. Some are questioning if there was an offered settlement with the SEC in the first place, and if there was, what Ripple would have to give up; some are asking why is the SEC going against Garlinghouse and co-founder Christian Larsen personally; some are suggesting that it's Ripple who's working against the settlement as they'd have to pay a large fine; and there are those believing that the CEO's thread suggests "they knew they were in trouble, probably for months…."
And others suggested Garlinghouse didn't actually reply to the question of paying exchanges, but that the company is hiding behind their strategically chosen vocabulary:
Yeah; he fully avoided it.

— Florances (@Kingsofthefew) January 7, 2021
Meanwhile, a recent tweet by Stephen Palley, a partner at US-based corporate law firm Anderson Kill, only stressed the importance of a deal with the SEC further. Palley argued that believing it's possible for Ripple to win the lawsuit and replace the Howey Test with anything else that would define investment contracts, securities, or crypto is "delusional."
for XRP to survive, Ripple needs to cut a deal w/ SEC & not persist in the risible delusion of ultimate success in the US Supreme Court & substitute the Ripple Test for the Howey Test. There are 600 million reasons why I am right.

If they care about bag holders, that's the path.

— Palley (@stephendpalley) January 5, 2021
"The problem Ripple is going to run into — and why I think they are basically screwed — is discovery, including contemporaneous documents and depositions," Palley had said a day earlier. "There's no universe in which this will help them at all."
As for how is XRP rising when facing such major issues, commenters are arguing that most exchanges haven't actually delisted XRP, but also that 'the US is not the entire world' – Ripple said earlier, and Garlinghouse repeated in his thread, that 95% of XRP is traded outside the US. And while some are saying not to take the markets seriously, others are warning against owning Ripple, and there are those loading up on XRP "as a complete gamble that [Ripple] will survive the SEC suit."
___
Learn more:
More Bad News Coming For XRP Proves Crypto Market Matured
Fact-checking Ripple's Claim that 'Many G20 Gov'ts' Call XRP a 'Currency'