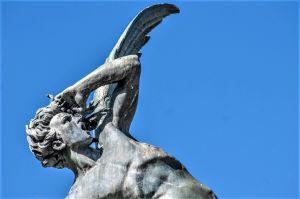 The double 'number of the beast' Bitcoin (BTC) block has been mined, carrying a Bible verse as a message.
Late last night, UTC time, the block number 666,666 was mined, and it included an aptly placed message by the sender, reading: "Do not be overcome by evil, but overcome evil with good." This is a Bible Verse, from the Epistle to the Romans, 12:21.
The message was embedded in the particular code, called OP_RETURN script, which allows using up to 80 bytes of data for a message. Given that the message along with the timestamp becomes a part of a block, this operation is called "timestamping of write information."
Per some commenters, the sender paid high fees (some USD 50) to make sure the message would be included in this particular block.
Commenters have also pointed to other messages left behind, such as the one reading "the Garden of Eden3D is Alive. Eden3D.io." But these are far from the only types of messages the Cryptoverse saw over the years.
If we go to the very beginning of it all, to the genesis block, within a coinbase transaction, which is the first transaction that occurs in every block, stands the message "The Times 03/Jan/2009 Chancellor on brink of second bailout for banks." This message is the most famous one within the Cryptoverse, as it contains this The Times headline about bank bailouts encoded by the Bitcoin creator, Satoshi Nakamoto.
Also, in March last year somebody signed a message using 145 addresses the controversial Australian computer scientist Craig Wright had claimed were his in the Tulip Trust – the message called Wright "a liar and a fraud," as he didn't have the keys used to sign the message, concluding with: "We are all Satoshi."
As reported, the halving block in May included the message as well, similar to the original one, saying: "NYTimes 09/Apr/2020 With $2.3T Injection, Fed's Plan Far Exceeds 2008 Rescue."
Among many more, at the end of 2020, in block 659,678, cryptocurrency mining pool Slush Pool included the Reuters headline, reading: "Dollar plummets on U.S. stimulus hopes; bitcoin hits all-time peak."
At 9:35 UTC, BTC is trading at USD 37,245, having appreciated 2.4% in a day and 3.5% in a week.
___
Learn more:
Did This USD 140B Manager Just Write a Guide For a Bitcoin Hodler?
Elon Musk Deconstructs Money, Prompting Bitcoiners to Ponder the Meaning
Satoshi Nakamoto from NSA, AntiChrist and Other Bitcoin Conspiracy Theories
Man Will Give 25% of Lost Bitcoin to COVID Relief if He Can Search Dump for USD 296M Haul